2013 Top 5 car diagnostic tool
In the OBD2 scan tools market; there are a number of different automotive tools and equipment. Then when you invest in good car diagnostic tools, you can go a long way towards keeping your shop open and busy. When you order poor quality tools, it is not a simple to waste money, but the worse thing is it will stop your repair work. Items such as auto Diagnostic Tools, OBD II scanner, Mileage Correction tool, Auto key Programmer
I would like to list the top best 5 CAR DIAGNOSTIC TOOLS and software in the following parts.
5. Original Launch X431 scan tools
Recently, EOBD2.NET introduce some Original Launch X431 scan tools, such as: the well-known x431 master, Launch X431 GX3 and x431 diagun iii; the code readers Launch X431 Creader VI+, Creader VI, CREADER VI+ and Creader VII; Iphone and Android based Launch X431, plus the heavy duty code scanner- Creader CR-HD, as well as some Launch parts.
4. Autel Maxidas DS708
Autel Maxidas DS708 is a very popular Autel scanner which is well-known for its good quality and wide vehicle coverage. As anAutel DS708 user, you will agree what the manufacture description on its features and functions:
DS708 is a state-of-art vehicle diagnostic system that delivers more accurate, more stable, more comprehensive, easier and faster diagnosis. The new generation platform stands out in a variety of tools by providing incredibly high performance with intuitive operation. For the first time, workshops and technicians could find an OE-level diagnostic solution designed for the aftermarket.
As for its features and functions, I would like to mention the following points:
work with more than 30 domestic, Asian and European vehicle makes;
Deep vehicle system coverage for ALL electronic systems;
Complete function capability including live data, module coding, and so many others;
Automatic Wi-Fi updates available in new software releases;
Innovative dual-processor technology for quicker diagnostics and boot-up;
Extremely easy-to-us with touch-screen operation and intuitive operation;
3. GM Tech2 GM Diagnostic Scanner
GM Tech2 is the best GM diagnostic scanner; the Vetronix Tech 2 comes with Authentic GM software and provides support for on-board diagnostics on all GM systems from 1992 to 2011.
GM Tech2 does not only work with GM vehicles, but also works with SAAB, OPEL, SUZUKI, ISUZU and Holden. GM tech 2 is able to capture stored DTCs, Freeze Frame, and Failure Record for later review, able to view the status of vehicle diagnostic tests as they run.
You may need to check GM Tech2 vehicle list.
2. Ford Rotunda Dealer IDS VCM V83 JLR V133
Ford Rotunda Dealer IDS VCM is a well-known car diagnostic tool for Ford, Jaguar and Land Rover makes. The version for diagnosing Ford is V83, and for diagnosing Jaguar and Land Rover is V133. Why IDS VCM is so popular, I think there are two important points, one is VCM is available with multi-language, including: English, German, French, Italian, Spanish, Netherlands, Swedish, Danish, Norwegian, Portuguese, Slovak, another reason is VCM keeps update, once it has the newest version, the seller will notice the users, so that the VCM can work with the newer car models.
1.Multi diag access J2534 interface pass thru
Multi diag access J2534 interface is the best selling in the Frech market, like Lexia-3 and Renault can clip. But not like Lexia-3 and CAN CLIP, J2534 interface is a universal diagnostic tool not only work with one single vehicle make, it covers more than 45 brands, the following picture shows a part of Multi diag vehicle list: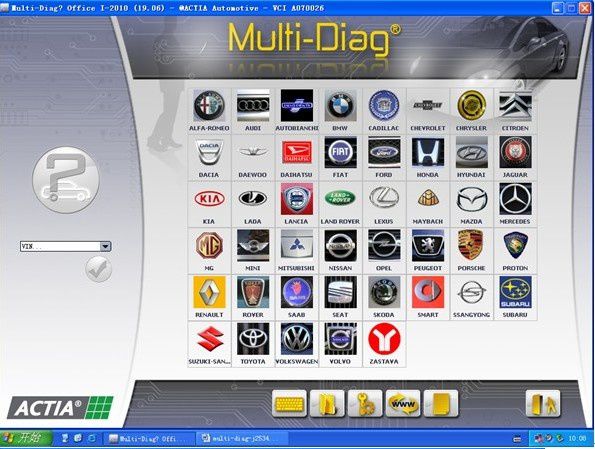 Besides, multidiag access not only support vehicle diagnostic, maintenance and repair operations done in just a few clicks without being an electronic expert., but also ECU programming, Access J2534 Pass-Thru Device is a VCI (vehicle communication Interface) enabling you to communicate with the ECU's according to the J2534 & J2534-1 specifications.
Last tips, when you buy when you are shopping online for automotive tools, make sure find the supplier with a wide range of product choices in each of these categories. This will enable you to choose the quality you need and want to run a successful service center.